---
Sale
Selection
Choose robust firm roots with a spicy fragrance and smooth skin. Ginger root should not be cracked or withered.
Storage
Store ginger root tightly wrapped in a paper towel or plastic wrap (or put into a plastic bag) in the refrigerator for 2–3 weeks.
Nutrition Benefits
Ginger root is low in fat, low in sodium, and cholesterol free. Contains vitamin C, magnesium, and potassium.
👩‍🍳 Chef's Favorite Recipe : Ginger Pear Smoothie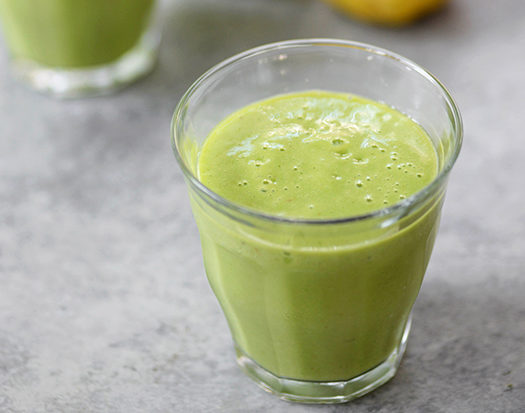 2 cups fresh

 

spinach

 

leaves
1 ½ cups

 

almond

 

milk
4 medium

 

pears, roughly chopped
1″ piece fresh

 

ginger, grated
¼ teaspoon ground cinnamon
1 teaspoon vanilla extract
1 frozen

 

banana
½ cup ice
Instructions
Place all ingredients in a blender and purée until creamy and smooth.
Divide into glasses and serve.
Recipe Notes:
If you don't have a high-powered blender, avoid bits of leaves in your smoothie by pulsing the spinach first into really small pieces, then add the rest of the ingredients and purée until smooth.
I recommend keeping a bag of frozen bananas in the freezer for easy smoothie making. They create a milkshake-like consistency and keep the entire smoothie ice cold.